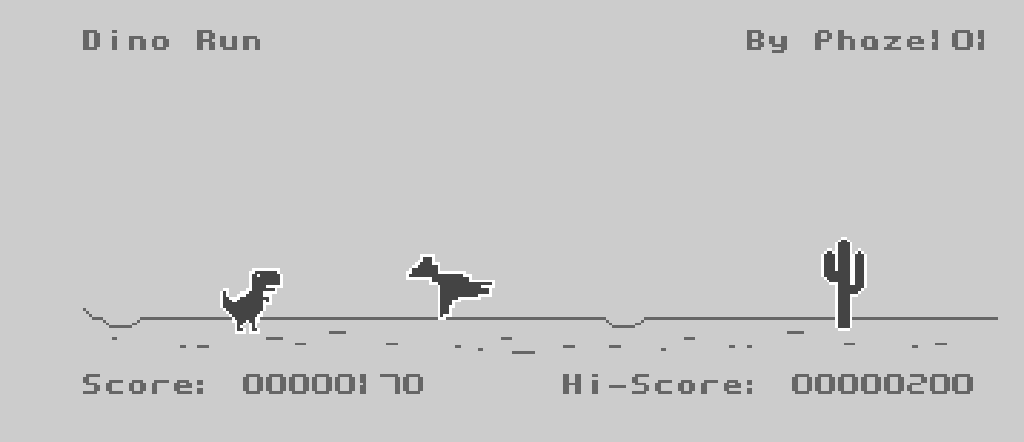 Dino Run (Amiga) by Prince / Phaze101
Dino Run
This is a simple game that I created for the Retro Trex Game Jam organised by Retro Programmers Inside (RPI) and Phaze101.
The game is a clone or based on Google Chrome Dino Run hence same name. It is a simple runner game with jump and dug to avoid objects

When I wrote this game like always I thought of sharing this and it's code. It is part of the Let's Make an Amiga Game Series (LMAG) and it is Volume 2 hence LMAG2. The code is based on that of LMAG.
You can watch the coding video streams related to this game by clicking the link here https://tinyurl.com/p101-lmag2 once they are released (between Dec 22 and Jan 23).

You can download the source code for each episode by reading the comments under each of the video. Of course this will only happen when these are released.
All the info related to the first series (LMAG) you can find here https://phaze101.itch.io/mr-poo-journey .
If you want to learn Amiga Assembly from scratch I have another series which is called The Complete Amiga Assembly Course. This goes in detail and you will need to have patience since it starts very slow but as you go along your knowledge will grow.
Here is the link to this series https://tinyurl.com/A68K-ENG
If you need any help please get in touch with me on Discord that is the best medium for me. Here is the link to all my social media https://linktr.ee/phaze101
Important Note
Please note that for this series I will be releasing the video episodes and the code for each episode. All supporters have access to the these including the source code.
Initially you will only be able to download the game. So please be patient and you will get everything. Once a week after on after the other I will be releasing the code.
Future Enhancements
Some defects in the GFX needs fixing.
Note also that although the series is finished I am still enhancing it and the final version of it will be released here. So consider the last stage of it is still in development.
Gameplay
Survive by avoiding obstacles by jumping and dugging while you are running.
Touching any object is game over.
Installation

Two Options
1. Hard disk Install - Download the file, copy it to your Amga Hard Disk and run it from your Amiga.
2. ADF Floppy Install - Just mount the ADF file to your WinUAE / FS-UAE and start WinUAE / FS-UAE
Please note that this is still not a final version.
Controls:
Left Mouse button Jump
Right Mouse button Dug
Minimum System Requirements:

Standard Amiga 500
Kickstart 1.3 and above
512K Chip Mem
OCS
Amiga Hard Disk for option 1 (Since Only executable Provided)
WinUAE / FSUAE to be able to load the ADF File
Credits:
Coding - Prince / Phaze101
GFX - Prince / Phaze101
Music - Crain / Phaze101
Follow us here - https://linktr.ee/phaze101
| | |
| --- | --- |
| Status | Released |
| Publisher | |
| Release date | Sep 02, 2022 |
| Author | Phaze101 |
| Genre | Survival |
| Tags | 68000, Amiga, assembly, commodore, dino-run, gamedev, Game Jam, phaze101, programming, Retro |
| Code license | GNU Lesser General Public License v3.0 (LGPL) |
| Asset license | Creative Commons Attribution v4.0 International |
| Average session | A few minutes |
| Languages | English |
| Inputs | Mouse |
| Links | YouTube |
Download
Click download now to get access to the following files: